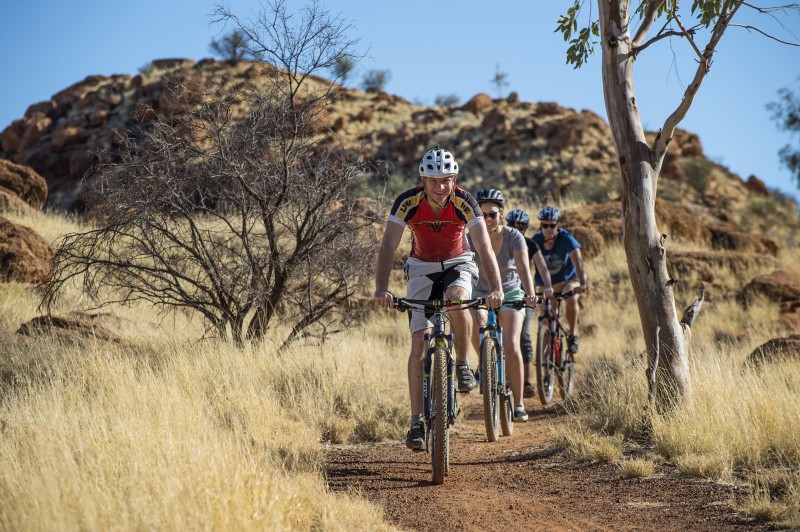 From the dramatic landscapes and red dirt of Central Australia to the tropical reserves and largely undeveloped coastline of the Top End, the Northern Territory is the perfect backdrop for unique and engaging adventure experiences.
Tourism NT is working with industry to help grow this tourism market and attract even more holiday makers to the Territory.
Mountain Biking
The Northern Territory Government released a Mountain Biking master plan to establish mountain biking (MTB) as an important recreational, social and economic resource for Territory communities. The master plan identifies the commercial and social opportunities that will help establish the Northern Territory and Alice Springs as a MTB destination of international standing.
Developed collaboratively by government agencies, land managers, the tourism industry and community groups, the master plan sets out an integrated approach for developing MTB by public and private partners. The plan provides five major strategies to maximise the appeal of MTB in the Northern Territory to a range of markets:
development of Alice Springs as the NT's iconic MTB hub
investigation of a number of distinctive, world class adventure rides in the NT's iconic landscapes
development of additional MTB destinations in the NT, including Darwin, Kakadu National Park, Katherine and Nitmiluk National Park
promotion of improved MTB opportunities as part of Tourism NT's brand and visitor marketing activities
develop MTB governance and trail management arrangements to guide implementation of the master plan and sustainable development and management of each trail network.
For more information download the master plan.
A Mountain Bike progress report was published to review and support the implementation of the master plan for Mountain Biking in the NT. The report card outlines achievements against the Master Plan's strategic goals and sets out future plans. Download the Report Card.
Fishing 
With close to 6,200 kilometres of coastline boasting estuaries, wetlands, mud flats and inland islands, fishing is synonymous with the Northern Territory and has come to be regarded as a signature experience. The fishing tourism industry's total economic contribution is estimated at $26 million per year, with $22 million of this generated by interstate or international visitors to the Territory. To find out more about the value of fishing to our tourism industry, read our fishing segment profile.
To help boost fishing tourism and attract more visitors to the Top End over the lower tourism season from October to March, Tourism NT has launched a dedicated marketing campaign aimed at fishing enthusiasts. Find out more about the Million Dollar Fish campaign.
Bird Watching
The Northern Territory is home to expansive and varying eco-systems from desert, savannah woodlands, and sandstone plateau to wetlands, mangrove and monsoon forests. It also welcomes unique weather patterns – a perfect combination that attracts over 400 bird species. Tourism NT are always looking for new product that can provide bird watching services in the NT, or products that may complement this market.
As part of our marketing efforts to promote bird watching in the Northern Territory, Tourism NT is working to promote leading events such as the Red Centre Bird Festival and Kakadu Bird Week to a national and international market via print and digital media and through trade events.
More Information
For further information regarding the adventure sector please contact [email protected].
Page last updated on 12 January 2021