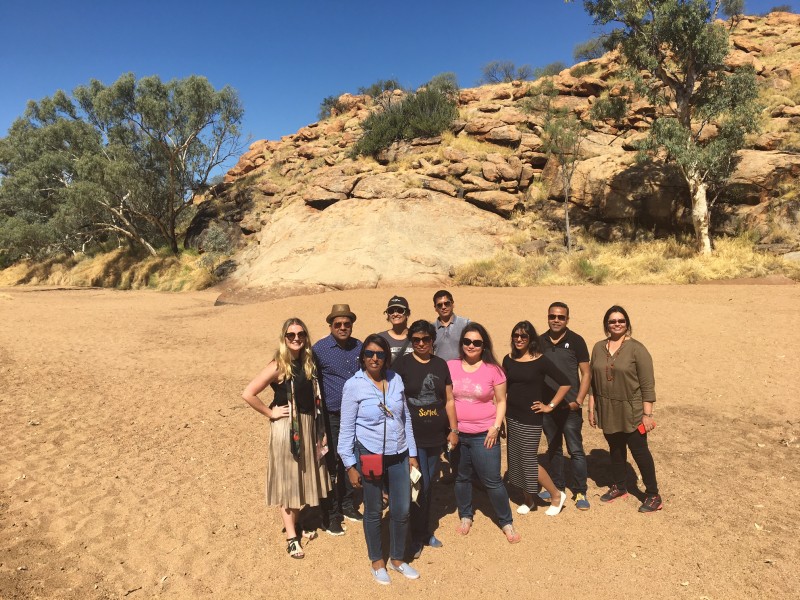 A famil (short for 'familiarisation') is a visit to allow people to understand your product by experiencing it first hand, to improve their product knowledge and help them on-sell or promote your product.
Famils are an important offering for trade professionals and media from around the world to experience a region, product or package. They are a great way for NT operators to get exposure.

Ideally, a good famil experience will lead to the person or group endorsing your product – usually through media coverage or positive word-of-mouth. For example, a media outlet may feature your product in an article or television program or you may get contracted with a wholesaler.

Famil experiences are usually offered at a discounted rate or free of charge (FOC) at the operators' discretion.
Trade famils
Trade famils are visitations for your distribution partners – retail travel agents, wholesalers and inbound tour operators – and should provide the same memorable experience a customer would have.

You may consider site inspections to allow participants to assess an event venue, meeting location or accommodation provider for inclusion in their NT product offerings.
Media famils
Media famils for print/online journalists, broadcast crews and key opinion leaders or social media influencers may need a more bespoke experience and itinerary to suit their story or time constraints. 
Famil visits that Tourism NT and Tourism Australia put forward have already been evaluated for their suitability to the NT as a destination and to your product. However, you may also be approached directly, which means you need to evaluate the opportunity and consider things like the media outlet's audience size, your product's relevance to their audience, and how much exposure you're likely to receive. You can then decide what level of support to give, if any.

For example, if a magazine journalist intends to include an accommodation property in an article on the destination, it would be expected that the property would supply the room nights free of charge. If the property may not receive any coverage from a visit, a discounted industry rate could be more fitting.
Hosting a successful famil
Before the famil
Learn about the participants in your famil group. Are they influencers, ambassadors, media or trade professionals? Where are they from? Do they have any special needs? What would be most interesting to their target audiences? What is their role in the organisation?
Arrange for an appropriate staff member to meet and greet your visitors, accompanying the visit if required.
Be aware of any cultural sensitivities (including appropriate conduct and greetings), dietary requirements, phobias or health issues and plan activities around those needs. If you aren't sure, ask the famil coordinator.
If possible, get to know a little about the group's itinerary, such as how much time you have with them, so you can prioritise what you'd like to share.
Prepare an information kit with fact sheets/brochures. A USB with images, video footage and information can make it easier for people to write about and refer to your product later on.
You might also consider personal touches for your group, including a product sample.
Tell the famil organiser about 'good-to-knows', such as when a hat is needed or if there may be an opportunity to interview/talk to relevant contacts during the trip.
Brief your staff and make sure they're aware of the famil context and any special needs.
During the famil
Present professionally—introduce yourself and your staff and exchange business cards.
Clearly outline the famil schedule on arrival and explain what each activity will involve. Use this opportunity to speak positively about your product and share other travellers' stories.
Give the group the information kit you prepared and any personal touches you planned.
Avoid commenting on political issues, being negative about other products or destinations, or sharing personal opinions unrelated to your product and region.
Be friendly and open. Encourage questions and be prepared to answer them.
Share your social media hashtags/handles and refer to TripAdvisor to inspire positive word of mouth.
Ask for feedback.
Follow up
Collect business cards and add participants to your contact database.
If you were approached directly, you could send a thank-you email asking for feedback and following up on any requests for information.
Update participants, particularly trade, about any new products or product changes.
Follow up trade famils with rates, product information and validity dates.
For media famils, look out for any resulting coverage so you can assess its worth, keeping this in mind for future opportunities.
Page last updated on 21 March 2023