Visitor Experience Enhancement Program round 7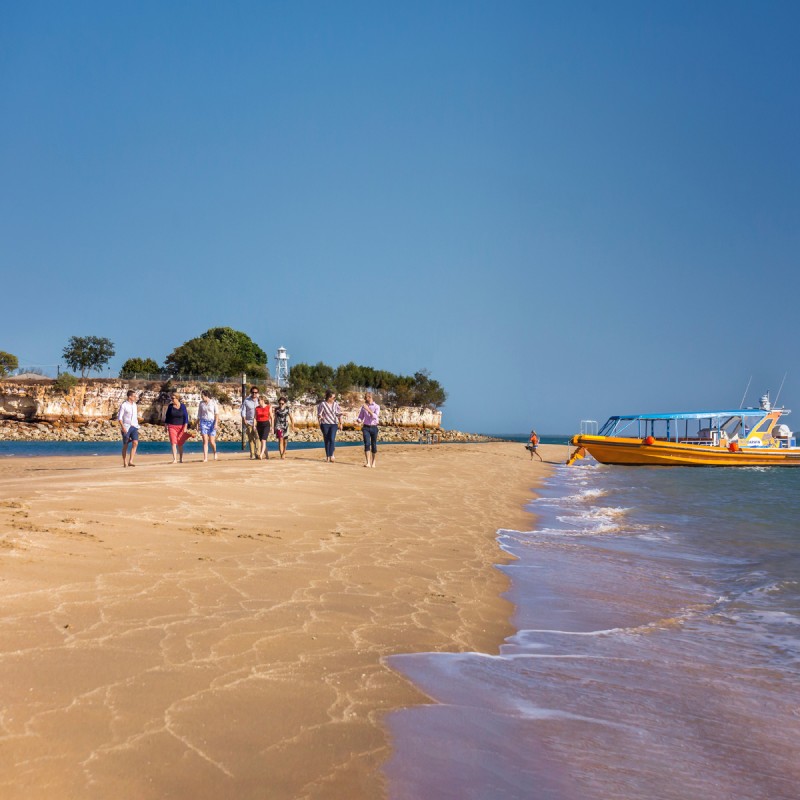 The Visitor Experience Enhancement Program (VEEP) seeks to enable the tourism industry to undertake projects that will improve the customer experience through product enhancements, thereby generating positive promotion for the Territory.
The Northern Territory Government has provided almost $3 million grant funding through round 7 of the VEEP.
Round 7 recipients  
The projects allocated funding from round 7 of VEEP (excluding GST) are:
Aqua Park: Customised container for improved ticketing, food and beverage and retail purchase experience at the Wave Lagoon, along with enhanced group facilities $73,270.00 
H on Mitchell: Upgrade the pool area including new fencing, sounds system, and landscaping $83,571.61 
DoubleTree Alice Springs: Install secure fencing around the perimeter of the hotel property line, including the southern parking area $100,000.00 
Lizards Bar and Restaurant: Refurbish Lizards Bar and Restaurant for an improved guest experience with more seating, new carpet, paint, lighting, bar facia and a new front gated area $75,043.00 
The Lodge of Dundee: Install an all-access, family friendly water splash park, with soft fall matting, shade sail, fencing and accessible standard path $100,000.00 
Royal Flying Doctor Service: Modernise the RFDS Alice Springs Tourist Facility with new touchscreen kiosks. Upgrade the RFDS Darwin Tourist Facility cinema experience with new upholstery, painting, under seat and wall lighting and augmented interval announcement $57,896.25 
Remote Education Tours: Upgrade the Lilla campsite facility kitchen and servery area for education tourism groups $25,425.00 
Tracy Village Social and Sports Club: Improve venue accessibility by installing a platform lift at the front entrance to the club $28,320.00 
NTWSA Darwin Ski Club: Install paving and concrete pathing to all areas of the club at accessible compliant standards, improving the experience for all visitors and ensuring patrons with ambulant and sight impairment will also be able to access facilities $33,250.00 
Beagle Hotel: Renovate two rooms to accessibility compliant standards and two family rooms. All four rooms to have new flooring, lighting, fixtures, storage, paint and bathroom upgrades $100,000.00 
Hilton Darwin: Renovate boardroom with new carpet, paint, tiles, partitions to create break-out rooms, modern conference facilities and upgraded bathroom $60,464.09 
DoubleTree by Hilton Esplanade Darwin: Upgrade 196 bathrooms with full new design and fixtures $100,000.00 
Desert Palms Alice Springs: Renovate 76 bathrooms with new modern sliding barn doors, paint and cabinets $57,944.24 
Knotts Crossing Resort: Renovate 20 executive and family rooms, with new flooring, gyprock walls and furniture. Upgrade the commercial laundry facilities $78,017.18 
Dinah Beach Cruising Yacht Association Inc: Upgrade lawn area access and amenity, new irrigation, plants and install a safety fence $24,823.19 
Crocosaurus Cove: Improving guest education through new engaging signs delivering messages such as crocwise, sustainability and wildlife awareness. Create a functioning 'Darwin backyard' highlighting urban biodiversity, wildlife safety, sustainability and animal health and enrichment messages $31,650.34 
Banyan Farm: Install a secure enclosure to house a saltwater crocodile with a viewing bridge and complementing digital interactive display, along with educational cruise experience $59,258.21 
Arafura Blue Water Charters: Upgrade the overnight vessel Wai Nawana with paint of the fishing areas and air conditioners in the accommodation and lounge areas for guest comfort $33,420.02 
Banubanu Beach Retreat: Refurbish and extend the current pool decking $12,041.51 
Cooinda Lodge Kakadu: Enhance guest dining options with construction of a new camp kitchen.      $100,000.00 
Mataranka Roadhouse: Upgrade the kitchen equipment and storage facilities to expand current offerings to travellers $66,797.69 
Katherine Outback Experience: Construct two new grandstands to increase capacity of the Outback Shows. Level and surface the car park for improved access $34,410.00 
Mercure Kakadu Crocodile Hotel: Upgrading of flooring, installing vinyl planking in 20 rooms $27,000.00 
Finke Desert Race: Upgrade of audio equipment to improve spectator experience at the start finish line complex $8,981.10 
Katherine Club: Install play equipment, soft fall matting and shade structure $52,410.00 
Sea Darwin: Supporting low season operations, upgrade and refurbish two tourism vessels with all-weather canopies, flooring and seat covers $39,724.50 
Bluestone Motor Inn: Install an automated security gate system $11,688.50 
Australian Walking Holidays: Upgraded Larapinta Trail campsite with new decking and guest reception area in Alice Springs $36,275.50 
Kakadu Lodge Caravan Park: Enhance all season experience at the bistro with extended roofing, paving and landscaping $59,075.00 
Larrimah Wayside Inn: Upgrade the electricity service supply and distribution systems. Install new kitchen, laundry and retail services equipment $100,000.00 
Palmerston Golf and Country Club: Upgrade children's playground with new equipment and soft-fall sand $38,589.13 
Timber Creek Travellers Rest: Install new wildlife viewing deck, a front entrance electric gate, improved grounds lighting and new ablution block $100,000.00 
Katherine Motel: Provide bright modern functional rooms through fixture and bathroom upgrades, installation of kitchenettes in eight rooms and a new barbeque guest kitchen $100,000.00 
Epilogue Lounge: A new addition to Epilogue Lounge, the Tropic of Capricorn will see the adjacent location offer a modern and well-designed restaurant $97,002.50 
Page 27 Café: Expansion into adjacent tenancies, upgrading the al fresco dining experience with new heating and cooling for improved experience along with kitchen upgrades $63,850.50 
Alice Springs Brewing Co: Enhance the bar area through installing noise-reducing foam panels, strategically positioned throughout the space for an improved visitor experience $27,387.50 
Tiwi Island Retreat: Highlighting the ocean to plate offering through improved kitchen infrastructure, permanent fish filleting station and water tank $31,087.50 
Charlies of Darwin: Increasing access to local distiller offerings through a gin cellar door on the ground floor of Knuckey Street, along with a dedicated retail space $35,186.50 
Hibiscus Tavern/ Dollys Bar: Redesign and fit out of bathroom facilities to wheelchair accessible standards $93,707.23 
Contour Hotel: Redesign the bar area opening it to the outside to serve al fresco, extending the bar inside for guest seating, upgrade lighting for improved ambience $54,744.12 
Alice Springs School of the Air Experience: Update the history wall display with new panels and extend the wall mural to include photo wall with face holes, along with new auditorium seating $10,735.13 
Lasseters: Improving the business event offering through replacement of carpet in the MacDonnell Room at the Alice Springs Convention Centre. Enhancements to the pool area at Lasseters Hotel $94,404.35 
Katherine Country Club: Install new children's playground equipment and soft-fall sand $70,717.72 
Alice Springs Golf Club: Building year round experiences through construction of new simulator room for multi-sports $100,000.00 
Urban Spice Pantry Restaurant: Restaurant renovations including new paint, bar shelving and outdoor and indoor lights $82,416.00 
Borroloola Hotel Motel:    Increase visitor comfort through upgraded air-conditioners in 12 budget accommodation rooms. Install a new mini café kitchen and lighting $49,477.28 
Adventure Tours Australia: Offer guests a fresh and appealing environment with upgrades to 13 tents including custom-made covers, new steel frames and vinyl flooring $34,462.75 
East Arnhem Real Estate: Enhancing Wallaby Beach Accommodation including renovating the communal kitchen, security gate, lighting and satellite internet install $44,494.95.
Page last updated on 11 September 2023