'Seek Different' Brand Awareness Campaign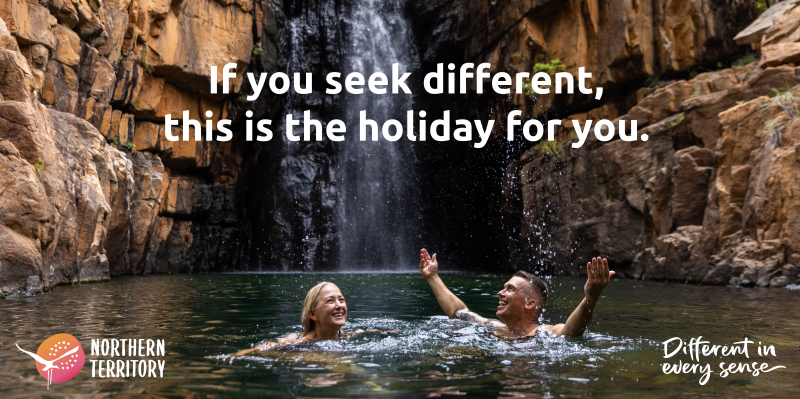 In October 2023, Tourism NT launched an ongoing nationwide brand awareness campaign. 
The activity continues to position the Northern Territory as a destination that is 'Different in every sense', with the aim to grow its share of voice in the domestic market by inspiring Australians to visit the Northern Territory for their next holiday.  
The campaign 
The campaign essence 'Seek Different' is designed to drive broad national awareness, with domestic and international travel intenders aged 25+.  
This financial year, our brand awareness campaign has evolved into an 'always on' strategy, designed to bolster brand recognition within our core demographic. Commencing in October 2023, refreshed 'Seek Different' digital video and static content will be promoted across various platforms including BVOD, YouTube and social media channels (Meta, TikTok and Pinterest).
A surge in marketing activity is scheduled for February 2024, which will see:
Television advertising in Sydney, Melbourne and Brisbane featured across Nine, Seven and Foxtel networks.
A widespread digital, print and content partnership with Newscorp, highlighting the unique selling points a Northern Territory holiday offers.
Heightened social media advertising.
The always on brand awareness campaign will be further supported via:
Paid marketing dedicated to generating preference for the NT as a travel destination.
Strategic public relations activities.
Organic social media engagement and influencer marketing.
Trade marketing campaigns.
In 2023 and 2024 every Australian will know that 'if you seek different, the Northern Territory is the holiday for you'. 
What does it mean to 'Seek Different'? 
We all seek to be different in our own way. 
Because different reflects who we are and who we want to be. 
And nowhere lets you be who you are and find what you seek like the Northern Territory. 
You see, the Northern Territory isn't trying to be different. It just is. 
So if you seek different, then this is the holiday for you. 
The Northern Territory. Different in every sense.
The campaign call-to-action is: www.northernterritory.com 
Watch the 'Seek Different' campaign videos:
Campaign partners
Tourism NT is working with a range of airline, online travel agents and national operators throughout 2023 and 2024. 

For more information on distribution and conversion partners, please contact [email protected]. 
How to get involved 
A downloadable Industry Toolkit with a range of assets and key messages that you can use to share the message will be available from 7 November 2023.
Page last updated on 23 October 2023