Glossary
Sustainability tends to involve lots of jargon which can be difficult to decipher depending on their context. Below are some common terms that you may encounter along your sustainability journey. Additional definitions can be found at: GSTC Sustainable Tourism Glossary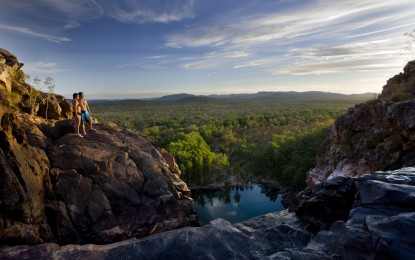 Biodiversity
Biodiversity is all the different kinds of life you'll find in one area - the variety of animals, plants, fungi, and even microorganisms like bacteria that make up our natural world. Each of these species and organisms work together in ecosystems, like an intricate web, to maintain balance and support life.
Example
Kakadu National Park's biodiversity is recognised by its World Heritage Listing. Kakadu is home to 2,000 plant species, around one-third of all Australian bird species and about one-fifth of all Australian mammals.
Carbon footprint
A carbon footprint refers to the total amount of greenhouse gases (including carbon dioxide and methane) released into the atmosphere as a result of the activities of a particular individual, organisation, or community.
Example
Some major contributors to the tourism industry's carbon footprints include transportation, lodging, food and drink, shopping and construction.
Climate action
Climate Action means to limit and adapt to climate change. It is number 13 of the 17 Sustainable Development Goals (SDGs) and encourages urgent action to combat climate change and its impact. Climate Change NT is an example of climate action.
Example
Climate actions include fuel and emission innovations in the aviation and cruise sectors, electric vehicles, decarbonisation and waste reduction in lodgings, carbon offsetting and the adoption of responsible, sustainable, and regenerative tourism practices.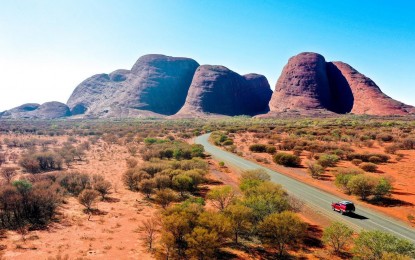 Climate change
Climate change refers to long-term shifts in temperatures and weather patterns. These shifts may be natural, such as through variations in the solar cycle. But since the 1800s, human activities have been the main driver of climate change, primarily due to burning fossil fuels like coal, oil and gas.
Example
The NT has experienced an average annual temperature increase of 1.5˚C since 1910. Climate change threatens our natural attractions, affecting biodiversity, water security, the look of the landscape, accessibility of coastal regions, destruction of wetlands, and the incidence of mosquito borne diseases.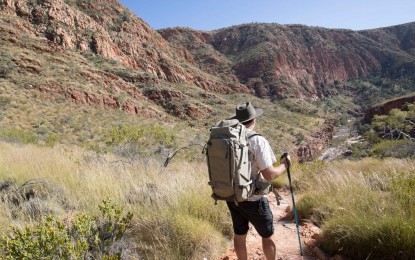 Ecotourism
The United Nations World Tourism Organisation defines ecotourism as: all nature-based forms of tourism in which the main motivation of the tourists is the observation and appreciation of nature as well as the traditional cultures prevailing in natural areas.
Emissions
An emission of something, such as gas or vapor, is the release of it into the atmosphere.
A specific set of gas emissions associated with human activities that alter the Earth's climate are called greenhouse gas emissions.
Example
Greenhouse gas emissions include carbon dioxide which makes up the vast majority of emissions from the tourism sector, but smaller amounts of methane and nitrous oxide are also emitted.
ESG
ESG is an acronym for Environmental, Social and Governance. In essence, ESG captures all material, non-financial topics that usually are not being captured by standard financial reporting.
Example
Most large organisations and businesses report on ESG, and many of these reports can be found on company websites.
Greenwashing
Advertisements and corporate activities that are made to appear more environmentally friendly or sustainable than they actually are.
Example
Putting the words "eco" or "environmentally friendly" in the advertisements or labels of products and services for marketing purposes that may mislead travellers, when the products themselves are not actually contributing to any sustainable outcomes.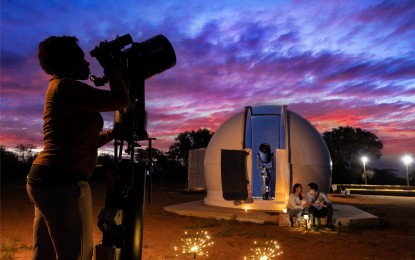 Net zero
Net zero (also known as carbon neutral) means you do not emit more carbon than you sequester. This is achieved by balancing a measured amount of carbon released through operations with an equivalent amount sequestered or offset.
Example
Earth Sanctuary was one of the first carbon neutral business in the NT. All of their events and tours have been certified as carbon neutral.
Regenerative tourism
Regenerative tourism goes beyond sustainable tourism and is based on adding a positive impact to the local community and environment.
Example
The Islander Way on Flinders Island in Tasmania is an example of a co-designed project using regenerative tourism principles and practices.
Residual emissions
Residual emissions are any greenhouse gas emissions that remain after a business or organisation has implemented all technically and economically feasible opportunities to reduce emissions in all scopes and from all sources.
Example
An example of residual emissions is from petrol or diesel from your tour vehicles that cannot yet be feasibly phased out.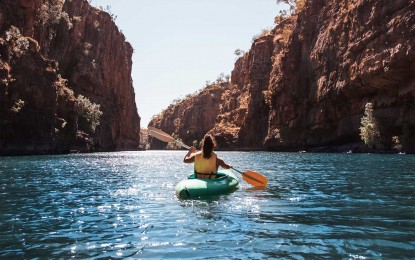 Responsible tourism
Responsible tourism is any form of tourism that can be consumed in a more responsible way. It minimises negative social, economic and environmental impacts, generates greater economic benefits for local people and enhances the well-being of host communities.
Scope 1 emissions
Direct emissions from sources owned or controlled by you.
Example
Emissions from petrol used in company vehicles.
Scope 2 emissions
Emissions from indirect consumption of energy and other purchases.
Example
Emissions from the electricity used in your hotel that is not generated by renewables.
Scope 3 emissions
Indirect emissions that you are involved in through your value chain.
Example
Emissions associated with:
Any goods and services you purchase
Waste disposal
Fuel consumed by supplier's vehicles
Employee commuting.
Page last updated on 08 August 2023