Tourism NT would like to acknowledge the following organisations for their their support and contribution to the 2023 Brolga Northern Territory Tourism Awards.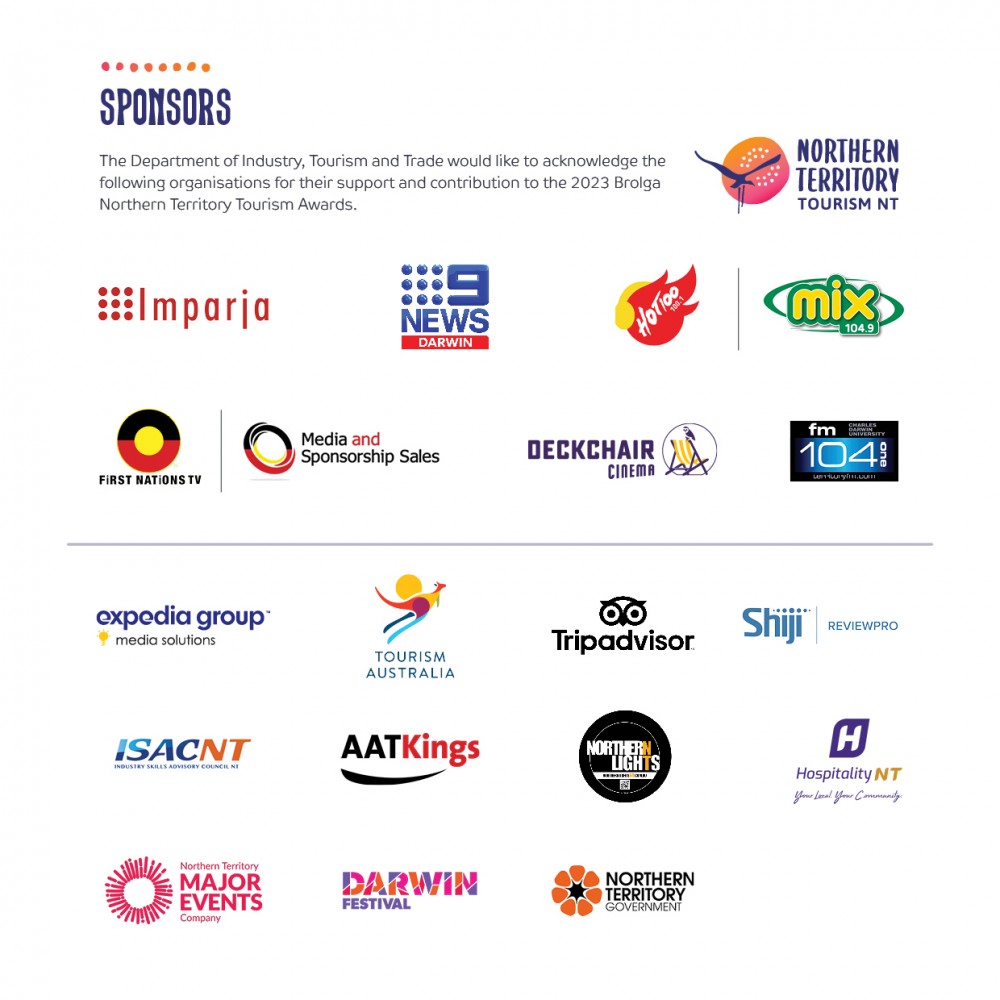 Expedia Group Media Solutions      https://advertising.expedia.com/ 
As the world's leading travel advertising platform, Expedia Group Media Solutions is proud to partner with Tourism Northern Territory promoting tourism and connecting their world class destinations, cultural experiences, and properties to millions of travellers in Expedia Group's global network. We are delighted to be a key sponsor of the Brolga Northern Territory Tourism Awards and continue supporting Tourism NT  achieve their objectives and showcase the incredible diversity of the region.
Tourism Australia     www.australia.com
Tourism Australia is the Australian Government agency responsible for attracting international visitors to Australia, both for leisure and business events. The organisation is active in 15 key international markets and activities include advertising, public relations and media hosting, trade shows, industry programs, consumer promotions, online communications and consumer research.
Tripadvisor     www.tripadvisor.com   
Tripadvisor, the world's largest travel guidance platform, helps hundreds of millions of people each month become better travellers, from planning, to booking, to taking a trip. Travellers use the Tripadvisor site and app to discover where to stay, what to do and where to eat based on guidance from those who have been there before. With more than 1 billion reviews and opinions, travellers turn to Tripadvisor to find deals on accommodation, book experiences and reserve tables at restaurants.
Shiji ReviewPro     https://reviewpro.shijigroup.com 
Shiji ReviewPro is the leading guest experience management software helping hospitality become more profitable by gathering and understanding guest feedback data. The Shiji ReviewPro platform includes hotel reputation, guest surveys, case management and guest communications. With a decade of experience and investment in innovation, we continue to be the benchmark of the industry. Together, we reimagine the digital guest experience.
Industry Skills Advisory Council NT     https://www.isacnt.org.au 
Industry Skills Advisory Council NT (ISACNT) is an independent not-for-profit organisation that provides advice and gathers intelligence on training package development, workforce development, skills shortages, and workforce solutions in the Northern Territory. ISACNT is committed to supporting workforce development initiatives across the Northern Territory through research, strategic thinking, industry engagement, and consultation. We are here to work with your business to support your workforce needs.
AAT Kings     www.aatkings.com 
A century's worth of exploration means AAT Kings offers unparalleled knowledge of Australia – its highlights, its secrets, and the people that bring them to life. We're talking about iconic world-class attractions as well as unexpected experiences, from dining up close to the majestic Uluru to immersing guests in the culture of Tiwi Islands.
Northern Lights NT     www.northernlightsnt.com.au
Northern Lights NT is a dynamic company specialising in the transformation of spaces, both large and small, through their innovative use of projection mapping, creative lighting, and cutting-edge technologies. Northern Lights NT excels at harnessing the power of technology and creativity to make spaces come alive in ways that were previously unimaginable. Their work transcends traditional boundaries, offering audiences and clients a new dimension of engagement and storytelling through the use of cutting-edge techniques and artistic vision.
 
Page last updated on 30 October 2023