Katherine's Mimi Aboriginal Art and Craft gallery open for visitors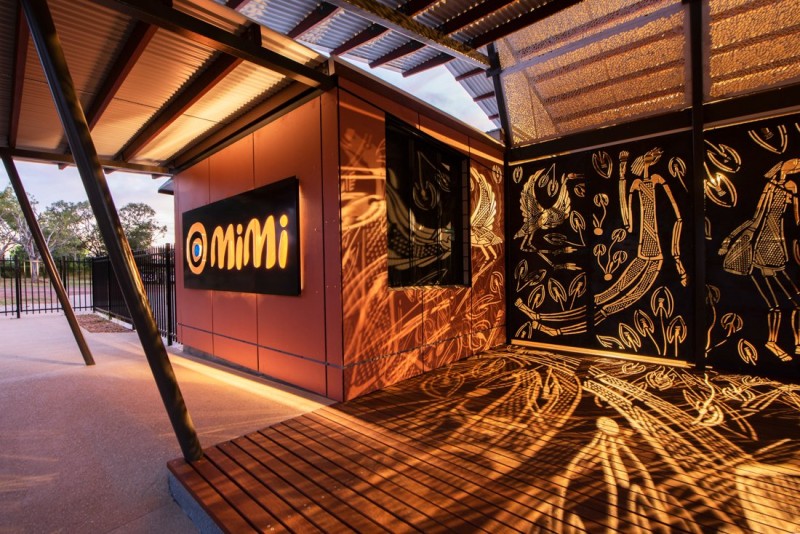 Katherine's Mimi Aboriginal Art and Craft gallery officially opened earlier this month following a $3 million renovation through the Northern Territory Government's $30 million Arts Trail Gallery Extension Program.
The gallery, which showcases works from throughout the Big Rivers region, is the first to be completed in the program being rolled out across Katherine, Tennant Creek and Arnhem Land. 
Mimi now features professional gallery and studio spaces for Aboriginal artists from Katherine and the Big Rivers region to produce, showcase and sell their work; while improved facilities and additional outdoor spaces enhance visitor experience and support engagement with authentic Aboriginal art and culture.
The entrance includes a sheltered and secure deck area made from Gumatj stringy-bark timber from Arnhem Land, and large sliding screens featuring stunning designs of Mimi spirits by local artist John Dewar. The deck creates a welcoming space for visitors and a comfortable outdoor space to present cultural performances, share stories, create works, and deliver workshops.
The $30 million investment is part of the NT Government's commitment to showcase Aboriginal art and culture, strengthen local business opportunities, and promote the high quality art produced in remote regions.
Designed by Troppo Architects and constructed by Katherine company NJ Homes, the building's engaging and contemporary design is responsive to the vision of the Mimi Ngarrdalingi Aboriginal Corporation Board members, staff and member artists.
Located at 6 Pearce Street, Katherine the gallery is open Monday to Friday's from 8.30am to 4.30pm or for after hours bookings call 08 8971 0036.

The Mimi Aboriginal Art and Craft gallery is featured in Tourism NT's Territory Arts Trails. Visit Territory Arts Trails for more information and to download the guide.
Page last updated on 12 May 2022