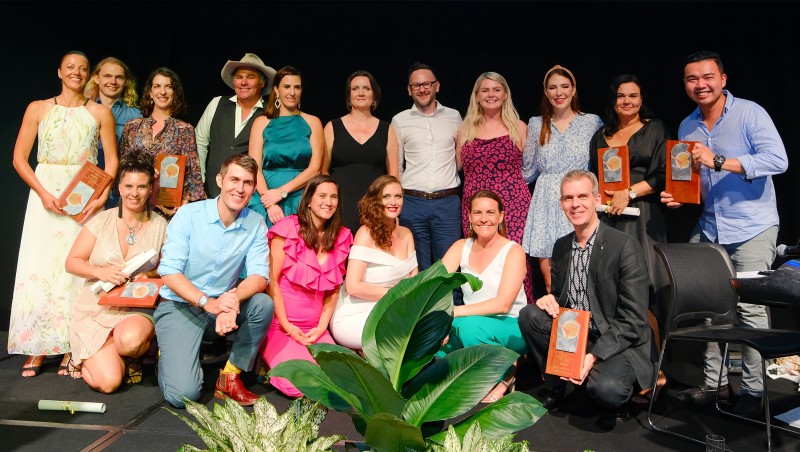 Congratulations to the 2021 Brolga Northern Territory Tourism Awards winners.  Business category winners will now represent the NT at the Australian Tourism Awards - winners to be announced on Friday 18 March 2022 on the Sunshine Coast.
Tourist Attractions
Katherine Outback Experience celebrates and showcases life on the land through real horse-starting, work dog demonstrations, horse riding, live music and humorous bush tales. It is raw and real, and things don't always go to plan, but that's part of the beauty of the real Australian outback. 
Major Festivals & Events
Darwin Festival is Australia's hottest winter arts festival, combining the quintessential spirit and energy of Darwin with warm outdoor festivities and a vibrant program of events for an unforgettable good time.  In 2020 it was Australia's first major arts festival to take place following the onset of COVID-19, a celebration of Territory resilience.  
Festivals & Events
In 2021 Uluru Camel Cup celebrated it's 10th anniversary. Attendees enjoyed two days of outback fun including a lively Calcutta, nail biting qualifying races and then the big one – the Uluru Camel Cup.  The festival was complimented with helicopter flights, outback games and fashions on the field. 
Eco tourism
Trek Larapinta is a boutique trekking company that specialises in guided walking tours on the Larapinta Trail. We think small is beautiful - we focus on quality and sustainability, maintain strong local knowledge of the landscape and build meaningful connections. 
 
Cultural Tourism
Venture North offer guided micro-group 4 wheel drive safaris throughout the Top End. Catering to the higher end of the market and through strong relationships with Traditional Owners we specialise in taking guests off the beaten track, to experience remote Arnhem Land, in style. 
Aboriginal and Torres Strait Islander Tourism
Standley Chasm is owned by the local Community who are direct descendants of the Arrernte Aboriginal people that have lived in this area for tens of thousands of years. It provides a backdrop for authentic cultural exchange and personal growth through guided tours, cultural conversations, activities and training. Standley Chasm offers camping, exceptional food and local Aboriginal crafts. 
Tourism Retail & Hire Services
Starwin is a one-of-a-kindness collective, featuring corporate and cultural gifts, innovative workshops, and tour experiences which are enjoyed by locals and visitors alike. Led by young Indigenous workers, Starwin has led the way in growing a sustainable and unique offering in the NT. 
Visitor Information Services
Tourism Top End provides complimentary, on-the-spot booking services for more than 550 members' products throughout the region including accommodation, tours and charters, attractions, fishing charters and vehicle hire.
Business Event Venues
The Darwin Convention Centre is a world-class conference and business events venue and the centre piece of the Darwin Waterfront Precinct. The Centre hosts hundreds of business events every year and offers delegates space to think, opportunities to learn and time to network. 
Major Tour & Transport Operators
With more than 36 combined years of experience in the scenic flight industry, Kakadu Air offers a range of scenic flight options that suit any travellers budget.  Whether a sunset flight, waterfalls in the wet or a scenic flight from Darwin you are guaranteed a window seat for a fabulous journey.
Tour and Transport Operators
At Uluru Camel Tours, visitors choose from one of five captivating experiences riding with a majestic train of camels through the red dunes of the Australian Simpson Desert. A photographer's delight, signature tours retrace the steps of early explorers immersed in the stunning, World Heritage landscape at Uluru. 
Adventure Tourism
Yknot Fishing Charters delivers the ultimate small group, blue water fishing adventure. Taking guests to remote tropical reefs and game fishing hotspots, with the fastest boat in the harbour their charters offer unforgettable adventures for beginners and experts alike.
Tourism Marketing
Tourism Top End's Cooperative Tourism Advertising Fund gave back to members by supporting and boosting their advertising.  Incorporating the "Never Have I Ever" campaign creative during the 2020 wet season the campaign was rolled out during round 2 of the Territory Tourism Vouchers.
Tourism Restaurants & Catering Services
Nestled within the walls of historic Admiralty House, two sensational and unique offerings to the local tourism market - Char Restaurant a well-established steak house and the Darwin Club a new modern Mediterranean inspired Seafood Restaurant.   
Tourism Wineries, Distilleries & Breweries
One Mile Brewery NT are the pioneers of craft brewing in the Northern Territory having been established 2012.  They have successfully been 'turning water into beer' since then, and are the Territory's largest micro-brewery.  One Mile is building a reputation for easy-drinking, craft products designed for a tropical climate and brimming with flavour. 
Caravan Parks
Oasis Tourist Park; a boutique, friendly and NT family-owned sanctuary located 20 minutes from Darwin in Virginia, Northern Territory. The Park is surrounded by tropical palms, lush grass and colourful gardens; providing an idyllic backdrop for the 83 caravan and camping sites, 15 cabins and bungalows. 
Self-Contained Accommodation
Darwin Waterfront Luxury Suites offers a range of contemporary self-contained apartments located at the vibrant Darwin Waterfront precinct.  Guests enjoy that home away from home experience with all the extra comforts including use of a complimentary car during their stay.
3 – 3.5 Star Accommodation
Knotts Crossing Resort is a three and a half star resort in Katherine. With accommodation ranging from motel rooms to self-contained cabins, powered sites and camping, it's the ideal place to base yourself while exploring the Katherine region.
4 – 4.5 Star Accommodation
The 4.5 star Adina Apartment Hotel Darwin Waterfront offers premier apartment-style accommodation on the Darwin Waterfront. Surrounded by seafront promenades, boutique restaurants and outstanding leisure and conferencing facilities, hotel offers views to the Darwin Harbour and beautiful sunsets on the Timor Sea. 
5 Star Accommodation
The five-star Hilton Darwin offers spectacular Esplanade, harbour and city views from spacious guest rooms and suites, providing contemporary accommodation for both corporate and leisure travellers. It offers Darwin's only Executive Lounge and features the new signature Pepper Berry restaurant.
Tony Clementson New Tourism Business
Uluru Audio Guide provides visitors to Uluru-Kata Tjuta National Park with an Australian first, GPS triggered audio commentary tailored specifically for a National Park. The Uluru Audio Guide plays interpretative information as visitors walk, drive or ride around Uluru and Kata Tjuta. 
NT only individual categories
George Dunne Award – joint winners
Marcus Williams has been running Pyndan Camel Tracks since 2000. True to his nature, Marcus started with a vision and a passion - share his knowledge of and love for camels as widely as possible.   Through his business Marcus offers camel rides, a simple and enjoyable experience, and embeds promotion and education about camels into that. 
Madusha Olupathage has been the Executive Chef at the DoubleTree Hotels in Darwin since 2016 having been in the NT since 2009.  Always showing himself to be caring and kind, he treats his team as his family – his focus, their wellbeing which harvests a deep respect from his team.  He actively contributes to the local community via a range of food projects, training initiatives and collative ventures.
Skal Employee Award
David Braithwaite is a pilot and accredited guide with Kakadu Air Services.  He loves educating travellers about the landmarks, customs and icons of Kakadu National Park.  He is well respected by his colleagues and always goes above and beyond with his passengers so they enjoy his flights and their experience.
Tourism Business Growth Award
During a one-hour camel ride through a scenic valley close to the MacDonnell Ranges, Pyndan Camel Tracks guests are treated to an outback experience that includes wide-open spaces and local wildlife. Guides are trained cameleers who share their knowledge of the outback as well as of camels and their history in outback Australia. 
Tourism Minister's Perpetual Trophy
Fay Miller is a Katherine region tourism institution having lived in the region since the late 1980's.  Fay has worked tirelessly within the industry at both the territory and national level on a number of boards and committees.  She has life membership of Tourism Top End, is on the Honour Roll of The Savannah Way and as awarded an Order of Australia Medal in 2021 for services to tourism and hospitality.
Chairman's Choice for Tourism Excellence (deemed the most outstanding entry in 2021)
Katherine Outback Experience celebrates and showcases life on the land through real horse-starting, work dog demonstrations, horse riding, live music and humorous bush tales. It is raw and real, and things don't always go to plan, but that's part of the beauty of the real Australian outback. 
 
Judges Highly Commended 
Adventure Tourism - Uluru Camel Tours
Tour and Transport Operators - NT Bird Specialists
4 - 4.5 Star Accommodation - DoubleTree by Hilton Alice Springs
Visitor Information Services - Tourism Central Australia
New Tourism Business - 00Seven Adventures
Page last updated on 15 November 2021