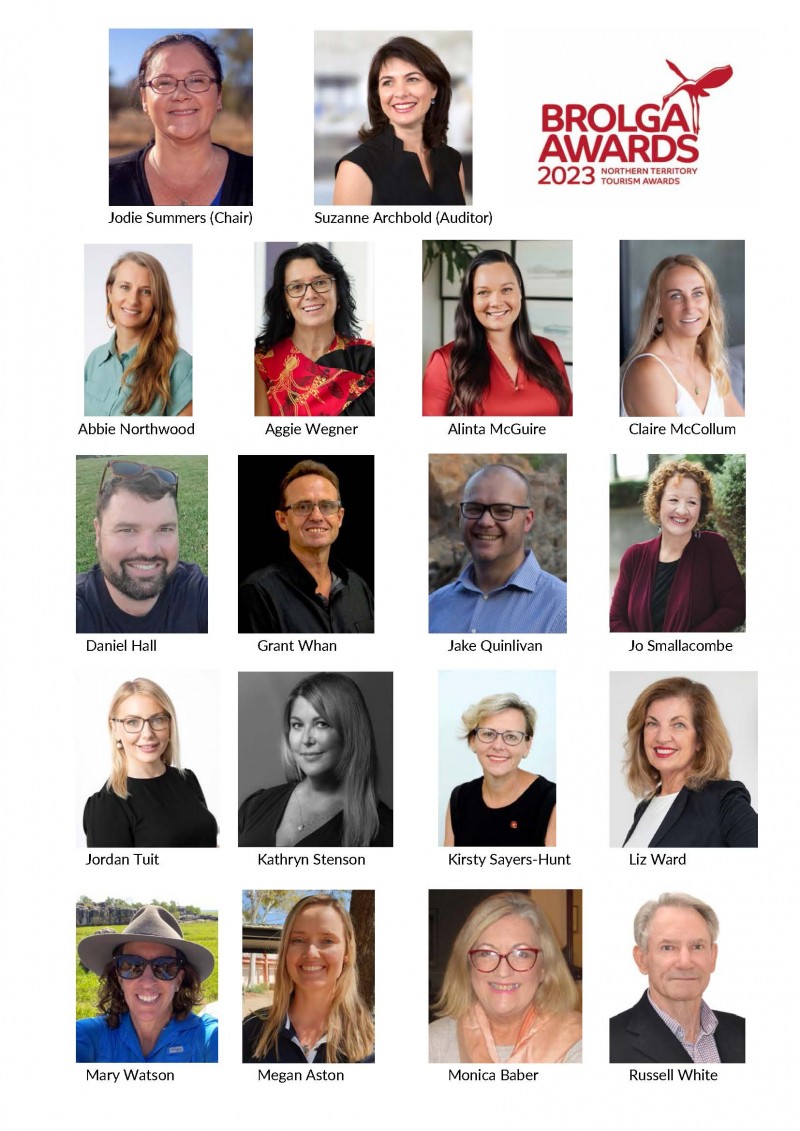 Judging is conducted by an independent panel of industry peers and business professionals.

Each judge is selected for their knowledge and experience as well as their willingness to volunteer and commit their time to being a judge of the Brolga Northern Territory Tourism Award.

The selection process ensures that a broad range of industry is represented and that skills and expertise are complementary. The judging panel is reviewed each year and operates independently of Tourism NT. 
Chair of Judges Jodie Summers
Jodie is a descendant of the Mamu people of the Innisfail region in Queensland and has lived in Alice Springs for 25 years. Life in the Northern Territory has offered a rewarding career in senior leadership positions across several industries including tourism and hospitality and the not-for-profit sector. Most recently Jodie has worked in local government and is now the Associate Vice-Chancellor Central Australia for Charles Darwin University. 
Auditor Suzanne Archbold 
Suzanne Archbold is the Managing Director of Advisory HQ Pty Ltd and has been auditor of the Brolga Awards since 2014. Suzanne was born and raised in Darwin and has spent her professional career providing accounting, taxation and advisory services to her clients across the Northern Territory in all sectors, including the tourism and hospitality industry.

Judging panel
Abbie Northwood
Abbie is passionate about tourism, and believes in its ability to enhance environmental, cultural, social and financial sustainability. Abbie's career has included studying with the UNWTO in the USA focusing on using tourism to achieve sustainable development goals and Tourism Manager of the MCG. For the past four years Abbie has worked with KPMG Darwin as a manager in the business advisory team, producing Territory wide tourism strategies and working with tourism businesses across the NT.
Dr Aggie Wegner
Dr Aggie Wegner is the Senior Director Commercial and Community Partnerships with Parks and Wildlife in the Department of Environment, Parks and Water Security, working across NT parks estate in a key engagement role. Aggie previously worked in the university sector as social scientist with a background in tourism, governance, environmental science and business. Her long standing engagement with and living in the NT contributes to her understanding and appreciation of the outstanding and beautiful tourism opportunities in the NT. 
Alinta McGuire
Alinta is a proud Yuin woman and an accomplished manager in Indigenous banking services, known for her leadership, dedication, and passion to supporting the economic advancement of Indigenous Australians. Alinta has extensive professional experience spanning more than a decade in supporting Indigenous businesses, communities, and people in achieving their financial aspirations. Her dedication to excellence in support to Indigenous Australia has helped play a role in fostering Indigenous community development in both the financial sector and the communities she serves.
Claire McCollum
Claire is Tourism Tribe's Coach and Digital Strategist. She has extensive experience in the tourism industry working for tour and accommodation operators in guiding and marketing roles and now provides confidence and capability building to tourism operators through training and coaching. A major part of Claire's role is to work with clients to develop content marketing strategies, blog updates and social media plans. Claire is well-travelled, exploring both foreign destinations and various regions within Australia, residing in all states except South Australia and Tasmania. 
Daniel Hall
Daniel started his career as a newspaper journalist, working for titles including the Australian Financial Review and Business Review Weekly. He has worked for the Queensland, Northern Territory and Commonwealth governments in a range of senior policy, external relations and corporate communications roles. Daniel is the Northern Territory lead for the Australian Government's international trade promotion and investment attraction agency, Austrade.
Grant Whan
Grant has over 30 year's tourism experience in Central Australia. Grant successfully wrote 5 winning Brolga submissions and took out the Chairman`s Choice Award in 2007.  In 2019 Grant was the proud recipient of the George Dunn Award for Outstanding Contribution by an Individual. His business management, tourism business advisory and industry development roles in government makes him well qualified as a mentor for the Business Enterprise Centre NT servicing the Central Australian region, specialising in tourism.  
Jake Quinlivan
Jake's diverse work history in the NT across two decades makes him one of the Territory's most valuable regional advocates with his extensive knowledge of people, place and culture.  Currently based in Katherine, Jake is actively involved in tourism drivers for the region, including as a member of the Nitmiluk National Park and Nitmiluk Tours board. A former director of the Katherine Regional Cultural Precinct, Jake's experience provides a valuable contribution to the judging panel.
Jo Smallacombe
As Executive Director People and Places with Department of the Chief Minister and Cabinet, Jo leads implementation of the Darwin City Deal, Activate Darwin and liveability initiatives across the NT. A marketing and communications professional with a Bachelor of Arts (Journalism), Jo has more than 20 years' experience in corporate communications and marketing in the UK and Australia, including a period as General Manager Marketing at Tourism NT. Jo is a long term Darwin resident and has travelled extensively. 
Jordan Tuit
Jordan has worked within the superannuation and financial advice sectors for over 15 years providing support and provision of holistic financial advice and education. As Territory Manager for Hostplus, Jordan leads a portfolio of 70 employers across a vast range of industries with more than 31,000 members.  She holds a Business Double Degree from the University of South Australia majoring in Finance and Management, an Advanced Diploma of Financial Planning, is an accredited Aged Care Specialist and a licensed financial planner. 
Kathryn Stenson
Kathryn has been the Chief Executive Officer of GTNT Group for over 12 years. Kathryn's passion for empowering people through employment and training has seen the organisation develop in many different directions to become a holistic provider of both fundamentals. Kathryn works to bring the unique Northern Territory perspective to the national stage through her Board positions on the NAAA, NAEN, AEN and Chamber of Commerce NT.
Kirsty Sayers-Hunt
A Darwin rural resident for the past 15 years, Kirsty managed the Tourism Accreditation Program within Tourism NT, was a Senior Contract Manager for the Federal Government's Department of Employment and Workplace Relations and worked for the Regional Tourism Association and managed the Visitor Centre in Exmouth on WA's Ningaloo Reef. As electoral office for the Member for Daly, Kirsty enjoys working closely with the community to address their concerns and provide assistance on a range of matters related to the Government. 
Liz Ward
Liz has over 25 years' experience specialising in marketing and technology for tourism, blending her knowledge and expertise for the benefit of regions across Australia and the world. She is an innovator and creator of break-through strategies, including creating Queensland's first destination websites and starting up the Australian Tourism Data Warehouse as CEO for over ten years.  Liz is co-founder of the award-winning online learning platform TourismTribe.com, helping thousands of tourism operators to navigate the quickly changing digital marketing environment.
Mary Watson
Mary worked in tourism and hospitality in the UK and Australia before completing her Bachelor of Business in Tourism. Following a graduate program with the federal tourism department in Canberra she began her career in tourism policy and industry development, working in various tourism roles in south-east Queensland and the Northern Territory. Now working with the Territory's peak body for local government, Mary hopes to share her passion for tourism with member councils to grow their role and profile in the sector.
Megan Aston 
Megan's love of travel and a last-minute holiday to the NT, inspired her to take a chance overseas as a tour guide. A role she thought might be fun for 'a year or two' evolved into an adventurous, challenging and rewarding career in the tourism industry working across Europe, New Zealand, and Australia. Megan's experience and roles include small and large group touring, operations, sales, business development, mentorship and training. She is currently a Tourism Lecturer at Charles Darwin University in Alice Springs.
Monica Baber
Monica started her career as a cook on camping tours with the ambition of visiting Uluru. This developed into a strong passion for the Northern Territory and a 32 year career in the tourism industry. She has worked across reservations, operations and product management for APT, developing their Outback Wilderness Adventure program. Monica also developed 'off train' accommodation product and tourism submissions for Great Southern Rail. Retiring in 2012, Monica continues her interest in tourism by volunteering in her local regional tourism office.
Russell White
Founding inbound tour company ATS Pacific in 1980, Russell has grown the company into a large regional business of over 300 staff, with offices in Australia, New Zealand and Fiji. With annual sales of $100m, the company has become an innovator of Australian product development and tourism technology, helping introduce many small and large local operators to the global markets.  Russell has a deep understanding of the challenges facing tourism business in becoming 'export ready' and seeking to position themselves into international markets. 
 
Page last updated on 12 September 2023